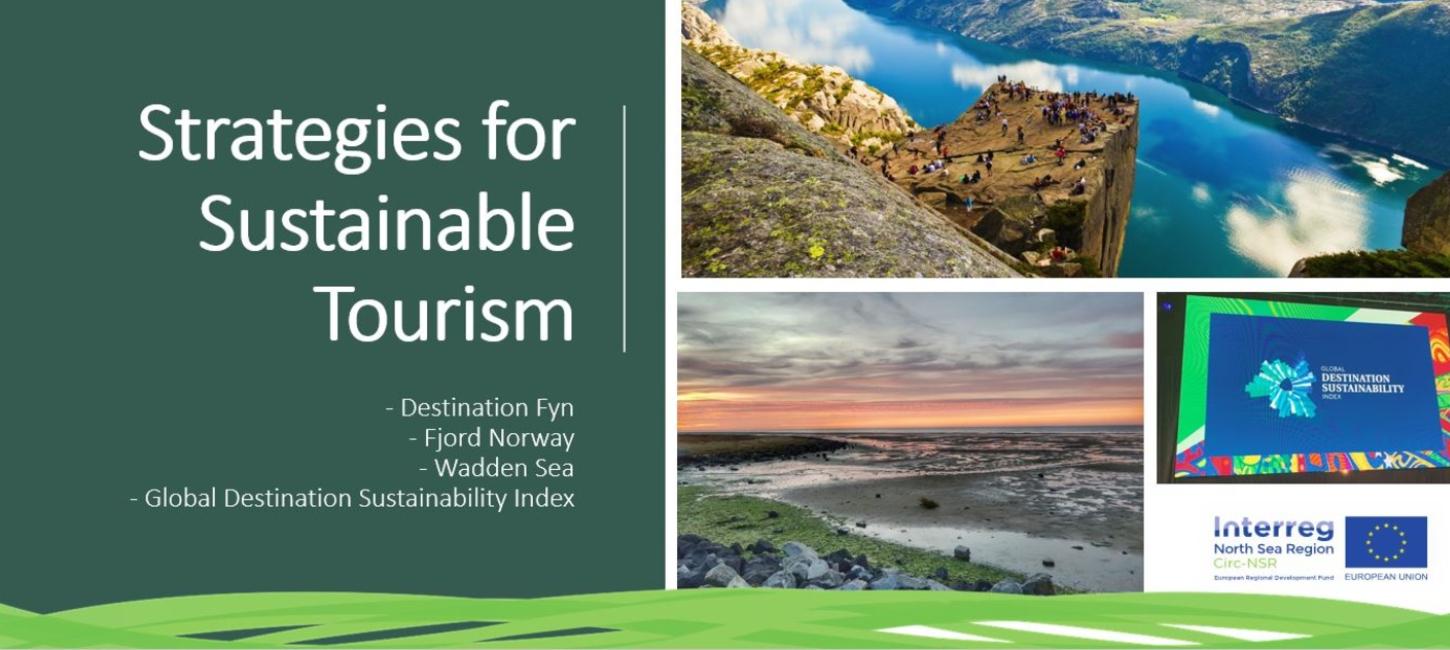 Strategies for Sustainable Tourism in the North Sea Region
In frames of "Circular North Sea Regions", Destination Fyn invited destination managers to share knowledge and experiences on the development of sustainable destination strategies. The seminar was focused on strategies at the destination level.
On Thursday the 4th of February 2021 Destination Fyn facilitated the webinar "Strategies for Sustainable Tourism in the North Sea Region" with a number of international guest speakers.
Take a closer look at the presentations
Destination Fyn is going green
Within the frames of Circular North Sea Regions, Destination Fyn is developing a sustainable tourism strategy as part of a common green vision for Fyn. We present a baseline survey on sustainability in our tourist sector, an SDG screening tool adapted to tourist companies, and our emerging sustainable strategy. We invite you to give comments and recommendations for the further work.
Fjord Norway – a coherent sustainability strategy across regions by Stein Ove Rolland, director of Fjord Norway
The fjord landscape of western Norway is a world-famous destination that stretches across Rogaland, Vestland, Møre og Romsdal regions. The common interest has led to a close cooperation on developing a strategy for sustainable tourism development involving many different stakeholders. The presentation will focus on the process of assuring ownership at the political, strategic and operational level in all the regions.
Hiking in the Fjell – a case from Lysefjord by Helge Kjellevold, Managing Director
Lysefjorden Development og Stiftelsen Preikestolen
By adding services and local knowhow to the experience, Lysefjord has developed a thriving business taking visitors in the fjell for spectacular hikes in a safe environment. The business is a role model for combining nature and business in a sustainable concept.
Wadden Sea – A Strategy as Lighthouse by Sjon de Haan, Coordinator Wadden Sea World Heritage Netherlands
Getting everyone onboard for a strategy seems like a big challenge but making the strategy work is an even bigger challenge. The Sustainable tourism strategy in the Wadden Sea has two important roles. It is a lighthouse for all stakeholders when they develop new projects, guiding the direction. But in order to travel you need action, that's why we made an action plan. 
Sustainability rocks – but what works by Guy Bigwood, Global Destination Sustainability Index
Sustainability strategies are emerging in the tourist sector worldwide – but what works and what doesn't? The GDS-Index is evaluating over 60 large and small tourism destinations in the world and offers strategic consultancy to cities and regions. We have invited the CEO Guy Bigwood to give his perspective on strategies for sustainable and regenerative tourism development.